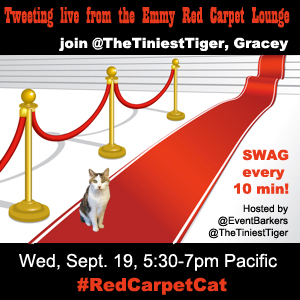 Congratulations Deborah D for Winning the Canine Cool Hipster Bag from Baylie Dog's paticipation in The Tiniest Tiger's Red Carpet Cat Twitter Party and Blog Tour!!!!!  Here's her foster pup, Cami giving inspecting the loot!!!!!   
Baylie Dog and BaylieDog.com are super excited to have been asked to join Gracey, The Tiniest Tiger and her Conservation Cub Club for the #RedCarpetCat Twitter Party and the Red Carpet Cat Walk Blog Tour.  Hosted by Event Barkers, there will be fun and prizes for Cat and Dog lovers!  To celebrate this special event, be sure to mark your calendars for Wednesday, September 19 from 5:30-7:00 pm Pacific 6:30-8:00 Mountain, 7:30-9:30 Central, 8:30-10:30 Eastern.
 Gracey, The Tiniest Tiger, will be tweeting live from the Emmy Red Carpet Celebrity Gift Suite in Beverly Hills and giving away SWAG every 10 minutes during the  #RedCarpetCat Twitter party!  This SWAG giveaway is the very same great gift package the celebrities will be receiving in the Red Carpet Lounge Gifting Suite in Beverly Hills! You'll also have the chance to mingle with the stars as Gracey tweets photos live from the red carpet.  She will debut her Tiniest Tiger Tote Bag filled with goodies from sponsors and, she'll also have a very special bag of special interest to DOG lovers, too!  We're super excited because these bags just may include a little something from Baylie Dog as well.
If you can't make the Twitter party, you can still have a chance to win. Stay tuned for more information on how you can win one of the same special Tiniest Tiger Tote bags filled with lots of goodies during the Red Carpet Cat Walk Blog Tour.
 Click here to RSVP

Joanne McGonagle, zoologist and author of The Tiniest Tiger, just returned from Namibia where she studied at the Cheetah Conservation Fund and in July of 2011 she lived among lions and the Maasai in Kenya as part of a Global Field Master of Zoology program. The Tiniest Tiger's Conservation Cub Club cares about all cats big and small and has raised over  $30,000 to help both domestic and big cats program.